Save Time and Skip the Reading: We read Yuval N. Harari's "21 Lessons for the 21st Century" so that you don't have to.
February 6, 2023
• 0 Comment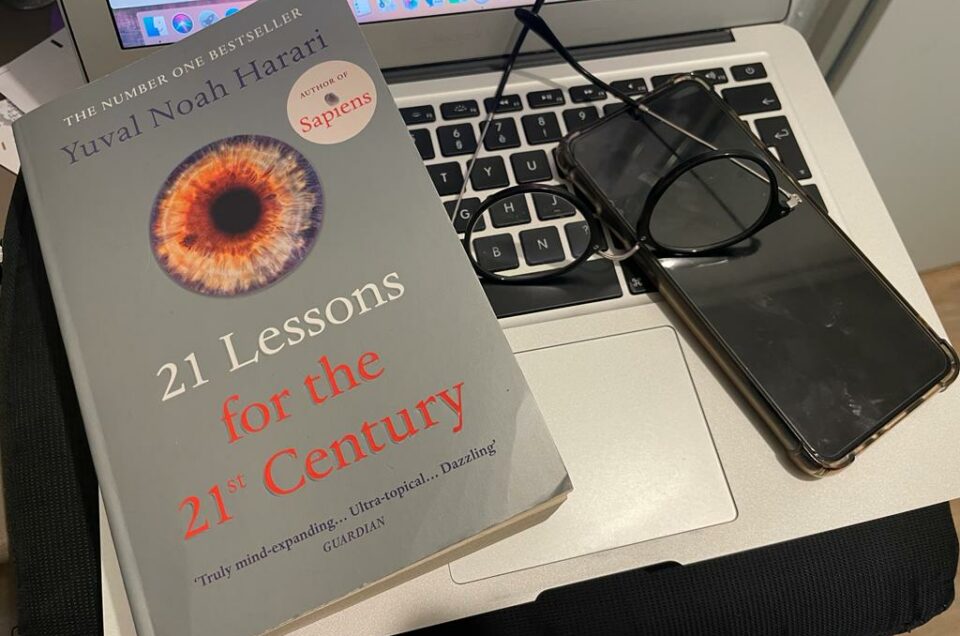 In "21 Lessons For The 21st Century", the storyteller and thinker Yuval Noah Harari deals with a wide range of topics, including technology, politics, and economics, and explores how these areas are likely to shape the future. 
After his previous bestsellers Sapiens, which explored the human past, and Homo Deus, which focused on human's distant future, "21 Lessons For The 21st Century", published in 2018, talked about our biggest challenges in the here and now and how we can deal with them. 
One of the main themes of the book is the increasing influence of technology on society. 
Harari argues that advances in fields such as artificial intelligence and biotechnology are likely to have a profound impact on the way we live, work, and interact with one another. 
The book is divided into 21 chapters, with each chapter focusing on one of the lessons mentioned in the book. 
The chapters are organized in a roughly chronological order, with the lessons becoming more specific and detailed as the book progresses.
Each chapter begins with a brief overview of the lesson and the main points that will be covered, followed by a more in-depth exploration of the topic. 
Harari uses a variety of sources to support his arguments, including historical examples, scientific studies, and personal anecdotes. 
He also frequently poses questions and encourages readers to think critically about the issues he raises.
The chapters vary in length, with some being quite short and others being more lengthy. 
The book is a relatively fast read, with clear, engaging prose that is accessible to a wide audience.
We read the book so that you don't have to. 
Here's a breakdown of the lessons Harari thinks are to be learnt in the 21st century. 
Let's get into it:
Disillusionment: In this lesson, Harari argues that many people are feeling disillusioned and disconnected from the world around them and that this is contributing to a sense of anxiety and uncertainty.
Work: This lesson discusses the ways in which work is likely to change in the 21st century, and the impact of automation and artificial intelligence on the job market.
Liberty (On Democracy and Voting): In this chapter, he explores the ways in which data is collected, analyzed, and used and the potential risks and rewards of this process. In particular, Harari discusses the concept of "surveillance capitalism", in which companies collect and analyze vast amounts of data about individuals in order to better understand and predict their behavior. He argues that this can have both positive and negative consequences and that it raises important ethical questions about privacy and consent.
Equality (The Capitalist Paradox): In this lesson, Harari discusses the increasing wealth inequality in capitalist societies and the ways in which capitalism is failing to deliver on its promise of prosperity for all. He also explores the ways in which technological advances may exacerbate this inequality, and the need to address these issues in order to create a more equitable society.
Community (Tribalism): This lesson discusses the ways in which people are increasingly identifying with their tribes and communities, and the potential risks and rewards of this trend. The lesson on "Tribalism" addresses the concept of community, and encourages readers to think about the ways in which we can build strong, supportive communities in the 21st century.
The Nation-State (Civilization): This lesson looks at the role of the nation-state in the modern world, and the challenges it faces in an era of globalization and rapid technological change.
Nationalism: Harari argues that there is nothing inherently wrong with having a positive, benign patriotism towards one's nation. However, he warns that this can turn into harmful ultra-nationalism when one begins to believe that their nation is superior to all others. It is true that all nations are unique, but this should not be used to justify feelings of superiority.
Religion: He argues that religion does not have much to contribute to policy debates, and cites Freud's idea that the obsession with such differences is a form of narcissism. To illustrate this point, he discusses the split between Eastern Orthodox and Western Christian religions, which was largely due to a small difference in the wording of the Nicene Creed.
Immigration: Harari defines immigration as a deal with three conditions: the host country allows immigrants in, the immigrants must adopt the norms and values of the host country, and if they assimilate enough, they become equal and full members of the host country. He argues that it is important to balance the need for tolerance with the need to maintain a certain level of cultural homogeneity, as bringing in too many immigrants from a different culture can fundamentally change the nature of the host society. He also suggests that people are now focusing on fighting "culturism" instead of traditional racism.
Terrorism: Harari discusses the threat of terrorism and argues that it is often exaggerated and used to justify overreactions that pose a greater threat to security than the terrorists themselves. He suggests that a successful counter-terrorism strategy should involve covert actions by governments, responsible media coverage that avoids sensationalism, and the conscious effort by individuals to resist being terrorized in their own minds. Harari compares terrorists to a fly that gets into a bull's ear and drives it into a destructive frenzy and suggests that it is important to resist being swayed by fear and anger.
War: In the modern era, information technology and biotechnology are more important than the heavy industry in terms of their value in warfare. Economic assets now consist primarily of technical and institutional knowledge, rather than physical resources such as wheat fields or oil fields, and this knowledge cannot be conquered through military force. He also explores the potential consequences of

a nuclear conflict

and the ways in which it could shape the future. In the lesson on War, Harari discusses the ways in which war is likely to evolve in the 21st century, including the increasing use of drones and other technological innovations. He also discusses the potential risks and rewards of these developments and the ways in which they may affect the way we think about and conduct war.

Humility: According to Harari, even apes have a natural inclination to help the poor and disadvantaged, which predates the biblical instruction for ancient Israelites to do the same for millions of years.
God

: According to Harari, morality is not about following religious dictates, but rather about reducing suffering. He argues that acting immorally is ultimately counterproductive because it leads to a society that is unsafe and lacking in trust, which is necessary for

economic growth

and other social benefits. He notes that religious beliefs can either foster compassion or justify anger and that secularism is based on values like truth, compassion, and responsibility. He emphasizes the importance of truth, which is based on evidence rather than faith and highlights the role of modern science in advancing human understanding and achievement. He also asserts that it is important to be aware of the mistakes and limitations of one's beliefs and to admit ignorance, rather than claiming infallibility.

Secularism: we've combined it with 13 (God)
Ignorance: according to Harari, most human decisions are based on emotional reactions and heuristics rather than rational analysis, and these mechanisms are not well-suited to the modern world. He notes that individual humans have limited knowledge and rely on the expertise of others for almost all their needs, and suggests that this idea, known as 'the knowledge illusion,' arises because we treat the knowledge of others as if it were our own. He also argues that the ability to think together in large groups is what has given humans an advantage over other animals, and emphasizes the importance of taking time to explore and consider different ideas in order to truly understand a subject.
Justice: Yuval Noah Harari argues that our understanding of justice is changing in the 21st century, largely due to technological advancements and the increasing influence of data-driven systems. He argues that traditional notions of justice based on concepts such as human rights, fairness, and equality are becoming obsolete in an era where vast amounts of personal data are collected and analyzed, and where

AI systems

are making decisions that affect people's lives. 
He suggests that these developments are leading to the creation of a new type of justice, which is based on algorithms and data rather than on ethical principles.
According to Harari, this shift toward data-driven justice raises important questions about the role of humans in decision-making processes, and about the fairness and accuracy of decisions made by algorithms. He also argues that there is a need for new ethical frameworks to guide the development and use of these systems, in order to ensure that they serve the interests of humanity as a whole and promote a just and equitable society.
Overall, Harari's views on justice in the 21st century are thought-provoking and challenge traditional understandings of what constitutes justice in our rapidly changing world.
Post Truth: According to Harari, when a small number of people believe a made-up story for a short period of time, it is considered fake news. However, when a large number of people believe the same story for a long time, it is called religion and is generally not referred to as fake news in order to avoid offending believers. He notes that fiction can be a powerful tool for bringing people together and enabling large-scale cooperation, and suggests that this is true of both religious beliefs and fake news.
Science Fiction: Harari argues that science fiction is an important artistic genre in the 21st century because it influences how people think about technology and its effects. He notes that science fiction needs to be more responsible in its depiction of scientific ideas and suggests that it often confuses intelligence with consciousness, leading to a focus on the wrong issues.
Education: This lesson looks at the ways in which education is likely to change in the future, and the role of technology in these changes.
The Meaning of Life: In this lesson, Harari discusses the importance of finding meaning and purpose in life, and the ways in which this can be achieved.
Meditation: This lesson discusses the benefits of meditation and the ways in which it can help people to find inner peace and clarity.
That's it.
The book received both praise and criticism in the public discourse. 
Some reviewers praised the book for its thought-provoking ideas and clear, engaging writing, while others criticized it for being too broad in scope and lacking in depth.
One criticism of the book is that it tries to cover too many topics in a relatively short space, and as a result, some of the ideas are not fully developed.
Others argued that the book is too focused on the negative aspects of the future and that it does not adequately address the potential opportunities and benefits that technology and other developments may bring.
While it may not appeal to everyone, it offers a unique perspective on the issues facing our world today.
Thanks for reading.