Paris Talks 2023: Making Sense of the Schedule
February 21, 2023
• 0 Comment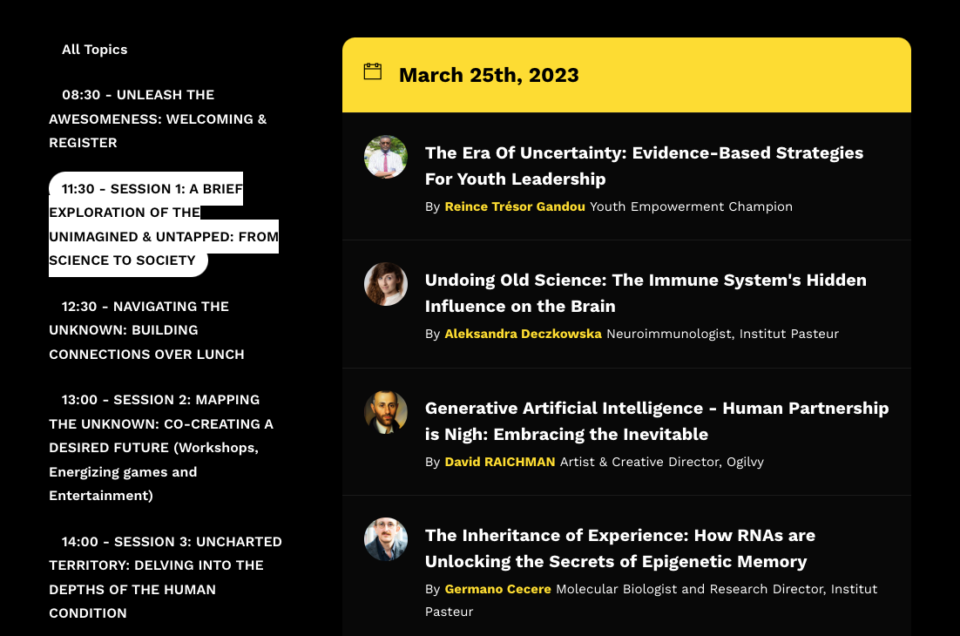 Paris Talks 2023 promises to be an unforgettable experience, with a schedule designed to take attendees on a journey of discovery, learning, and creativity. The event's schedule has been meticulously crafted to provide a holistic experience that combines knowledge acquisition, creativity, networking opportunities, and entertainment. The schedule is built on three main sessions, each of which promises to be thought-provoking and engaging.
Session 1, A Brief Exploration of the Unimagined & Untapped: From Science to Society, is a series of short, impactful talks from speakers on the main stage. This session aims to challenge attendees to think beyond their current perspectives and explore unimagined and untapped possibilities. With Marie-France Samba conducting the session, attendees can expect to be engaged in discussions on the latest discoveries in science and how they can impact society. Speakers featured in this session include neuroimmunologist Aleksandra Deczkowska, PhD, youth empowerment champion Reince Trésor Gandou, artist and creative director David RAICHMAN, molecular biologist Germano Cecere and success strategist Marie Pushparajalingam.
Session 2, Mapping the Unknown: Co-creating a Desired Future, is an interactive session that involves attendees in a learning and creative process through workshops, energizing games, and entertainment. This session provides a unique opportunity for attendees to learn and co-create innovative solutions to challenges in relation to uncertainty in diverse fields. The session promises to be engaging and thought-provoking, with open and RSVP-required mini-events. It'll feature workshops from violist and musical educator Sarah Niblack, entertainment and experience designer Frances Viera Blanc and her entire Eat the cake crew, or Paris Talks curator's fireside chat.
The final session, Uncharted Territory: Delving into the Depths of the Human Condition, features more short, impactful talks from speakers on the main stage. This session aims to dive deeper into the human condition, exploring uncharted territories of the mind and heart. The Japanese Ethical fashion model and entrepreneur Kiko will give a talk in this session, and attendees can expect to be inspired and challenged as entrepreneur and leadership educator Bernard Muhindo, Attorney, Change Expert and Entrepreneur Wani Iris Manly, singer and songwriter Sumana explore the human condition from the past, current and future eras.
In addition to the robust sessions, Paris Talks 2023 will also feature, very early in the morning,  a workshop on foresight by the head of i-lab, the foresight department of Air-Liquide, Marianne JULIEN, and an ethical fashion show featuring the ethical brand Benedetti Life and organized by Ethical models, or the opening act from musical educator Sarah Niblack, and curator Michael Bahati, among other surprises.
While we aim to maintain the informative nature of a conference, we want to approach the design of the Paris Talks 2023 in a manner that distinguishes it from a typical company or university conference
This will be an opportunity to design and envisage brand new ways to navigate uncertainty, and attendees are encouraged to bring along friends, lovers, and colleagues to be a part of this future day.
With the perfect mix of content curation, attendee experience, and community energy, Paris Talks 2023 promises to be an unforgettable moment.
Crafting a compelling narrative around the theme of uncertainty and the unknown is never an easy task. It requires a deep understanding of the subject matter, as well as the ability to present it in a clear, engaging, and thought-provoking manner. 
Despite the challenges, the Paris Talks team has worked tirelessly to create a schedule that reflects the complexity and richness of the theme. We really believe that attendees will be challenged, inspired, and transformed by the experience, as they join us on a journey of discovery, learning, and creativity.
So come join us on March 25th, 2023, and let's explore the unknown together.