Six (Well, Nine)Ways to Network and Build Lasting Relationships at Paris Talks
March 12, 2023
• 0 Comment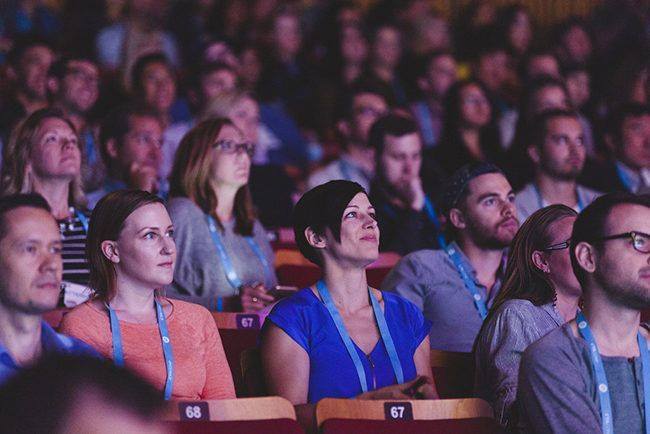 Attending a conference can be an incredible opportunity to learn from experts, gain new insights, and meet like-minded people who share your interests. 
However, if you're attending an event like Paris Talks, which is dedicated to discussing the Future of Humanity, you may be feeling a bit apprehensive about networking, especially if it's been a while since you've attended an in-person event.
But don't worry! 
Events such as Paris Talks offer a unique chance to connect with others who are passionate about the same things you are, and these connections can lead to meaningful relationships and even life-changing opportunities. 
To help you make the most of your time at Paris Talks, we've compiled a list of six simple yet effective ways to network and build relationships with other attendees. In fact, they're nine.
By following these tips, you'll be able to confidently navigate the festival and create lasting connections with like-minded individuals who can help you achieve your goals.
Let's go.
Think ahead: Get clear on your goals for the event. Do you want to meet someone in your field to bounce ideas around? Learn more about a specific speaker, talks, workshops or initiatives. Find out about a particular job or career path. Knowing what you want will help you identify opportunities for meaningful conversations.
Say hi: It may sound simple, but introducing yourself to someone is often the hardest part of networking. Don't be afraid to take the first step and say, "Hi, I'm Ashley." It's not as scary as you might think, and the person next to you is probably just as nervous as you are.
Cast a few lines: Don't be afraid to cast a few lines and share a bit about yourself and your interests. Just like a fisherman who casts multiple lines to increase their chances of catching a fish, sharing about yourself opens up possibilities for connection. Be genuine and authentic when you talk to people, and you may find common interests that can spark new friendships or business opportunities. Remember, networking is about building relationships, and sharing a little bit about yourself can help establish a connection with others.
Talk to speakers and to Paris Talks volunteers: To maximize your experience at Paris Talks, it's important to take advantage of the opportunity to speak with the speakers and volunteers. If a presentation resonates with you or sparks your interest, don't hesitate to approach the presenter and engage in a conversation. They are passionate about their subject and would love to hear your thoughts and feedback. Not only will this exchange leave a positive impression on the speaker, but it may also lead to meaningful connections or collaborations in the future. So be proactive and strike up a conversation – you never know where it might lead!
Look beyond the 2023 Paris Talks ideas festival: In the context of attending Paris Talks, it's important to remember that networking doesn't only happen during the conference. While attending the event itself is a great opportunity to connect with like-minded individuals, it's also important to look beyond these events and take advantage of everyday opportunities to connect with people. At Paris Talks you should learn how to maximize connection building so that you can make it happen anywhere, from chatting with your FedEx delivery person to joining a recreational sports league. Don't limit yourself to Paris Talks, but be open to opportunities that may present themselves in unexpected places. You never know where you might find a meaningful connection, so keep an open mind and look for ways to connect with others in your everyday life. Make Paris Talks the beginning of that journey.
Be warm, fun, and creative: Connecting with others at Paris Talks is like discovering a hidden gem, and expressing genuine appreciation is like polishing it until it shines. Let your warmth and creativity shine through, and don't be afraid to have a little fun! Instead of asking a generic "How are you?", try something like "What's giving you butterflies these days?" or "What's bringing you joy lately?" If someone does something that makes your heart skip a beat, let them know with an enthusiastic "You are a rockstar!" And instead of a boring "Nice to meet you," why not try "My heart is doing cartwheels after meeting you!" By finding unique and authentic ways of expressing yourself, you'll create a more meaningful and memorable connection with the amazing people you'll meet at Paris Talks.
Schedule relationship-building time: Get ready to spice up your networking game with some intentional relationship-building time! We all get caught up in the daily hustle and bustle and can easily take our newly-made Paris Talks connections for granted. But fear not, as part of your time-ownership practice, schedule time slots for some quality connection-building with your Paris Talks network. You can plan meetups or phone calls, or take a more casual approach by shooting off an email to check in on your contacts. Who knows, that one email might lead to a spontaneous coffee date or a fun night out. It's all about going back to the basics of curiosity and asking yourself, who do I really want to connect with at Paris Talks? Who can teach me something new or offer a different perspective? And don't forget to bring in some fun and heartwarming expressions to express your appreciation for your newfound connections. Let them know you're thrilled to be in touch and that you appreciate their time and energy. Remember, if you don't schedule this time for yourself, it's easy for those potentially meaningful connections to go stale.
Be a giver (and learn how to identify takers): Spread love and kindness as a heart-led networker. Being a giver can have a profound impact on your personal and professional relationships. It's not just about doing things for others, but doing them with genuine care and compassion. As the saying goes, 'what goes around, comes around,' and in the context of Paris Talks, being a giver can lead to unforgettable connections that bring joy and richness to your life. However, be on the lookout for takers, those who are quick to receive but never give back. They can drain your energy and enthusiasm, so be sure to spot them early on and politely steer clear. Remember, true connections are built on mutual trust and generosity, and being a giver is one of the surefire ways to achieve that. So come over, spread some love, make new friends, and enrich your life!
Follow up: After the festival, send a quick email or connect on LinkedIn with the people you met. Say how much you appreciated meeting them and ask another question or plan a time to chat further. This will show that you're interested in building a relationship, not just collecting business cards.
Remember, Paris Talks is the place where the Parisian intelligent, international, fun, and cool people gather. It's a platform devoted to sharing big ideas about the Future of Humanity. The ideas shared here lead toward a brighter future for all. 
By following these simple steps, you can make meaningful connections and contribute to shaping that future. Don't let nerves or uncertainty hold you back – embrace the opportunity and enjoy the ride!